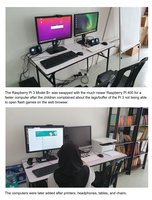 Subang Jaya Community WiFi Social Audit
Project report to examine community wifi and verify claims by Malaysian sub-national government on its accessibility and reliability
Resource Type:

Research Reports, Working Paper
From this audit, it is apparent that this community needs help in getting them to have meaningful internet connectivity especially for those who require online learning and without
any access to computers. As most community members are low-income earners, they do not have enough excess income to buy better internet and a computer. The community also
answers that their need for the access mentioned above would be on key priorities such as, communications, accessing information, banking, and education.

This project highlights the importance of the culture of Open Access in particular to the Internet and the means of access regardless of income and social levels.

Other lessons that can be learned is that government implementation can be quite lengthy in
comparison to the actual plan, and in getting a response from the government side, might
not be in the favour of poor communities that simply have no time for complicated bureaucratic processes. Even with a more streamlined online system of complaint, it favours those who are literate, have access to the internet and have a device to connect online to begin with. The local state legislative member's office might even miscalculate the distribution of the state government's plan despite having better or closer access to the implementing agencies. Example can be seen as one of the posters of the local assemblywoman's poster cited the wifi being completed in December 2020 despite being
non-existent at the time.
Attachments