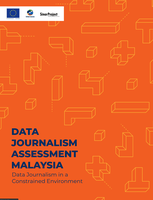 Data Journalism Assessment - Malaysia, Data Journalism in a Constrained Environment
The assessment examines the state of Open Data in Malaysia which was found to be limited across all sectors available for local journalists – making it a difficult and challenging environment for data journalism.
Resource Type:

Research Reports, Working Paper
Key points/findings from the report:
Lack of quality granular open data
Restrictive legal environment for right to information and freedom of expression make getting access to data difficult and puts journalists and sources at risk of persecution
Malaysian journalists are applying innovative methods in sourcing and generating their own datasets for data journalism despite these challenges 
Based on these findings, given the potential risks faced by journalists in Malaysia in finding and reporting data, it is recommended that they familiarise themselves with the safety tips from the resources, including protecting sources along with some security basics. The assessment also highlights that, due to the decades-long constrained journalism environment in Malaysia and wealth of seemingly hidden information available as fragmented data, the next investigative data journalism story is just waiting to be written.
Attachments